Our Urban Forest at a Glance
The US Forest Service has developed an interactive mapping and analysis tool, called i-Tree Landscape, that lets you analyze urban forest coverage and benefits. Using that tool, it is possible to take a look at the urban forest of the city of Pomona.
Overall Canopy Coverage
At present, approximately 8% of Pomona's 15,000 acres is covered by tree canopy.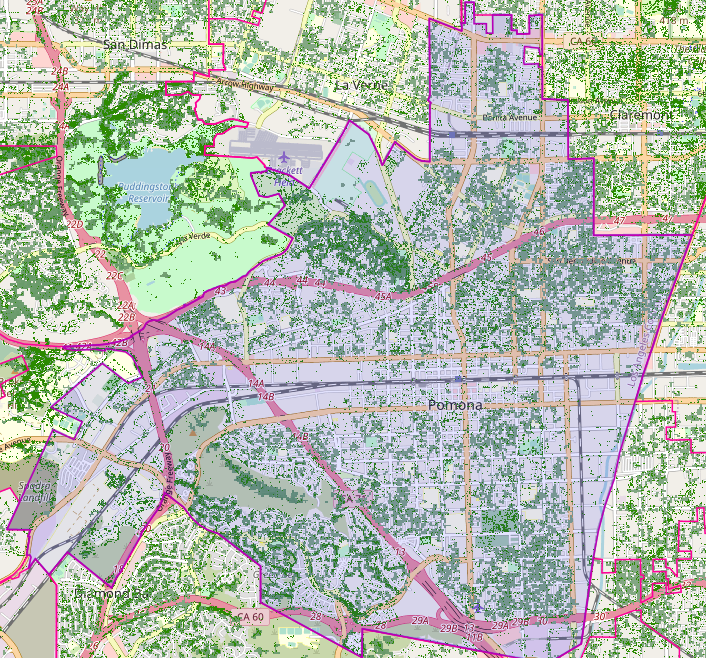 This compares less favorably to some nearby communities that also tend to have lower population density.
City
Population
Land Area
(in acres)
Canopy Coverage
(in acres)
Population Density
(people/acres)
% Canopy Coverage
Diamond Bar
55,072
9,526.4
1,163.3
5.8
12.22%
La Verne
31,334
5,479.6
638.1
5.7
11.83%
Walnut
28,430
5,757.5
633.7
5.0
11.01%
Pomona
151,713
14,696.4
1,152.1
10.3
7.84%
Montclair
37,865
3,531
200.3
10.7
5.67%
Source: Area and tree canopy data, US Forest Service. I-Tree Landscape, Tree Canopy Assessment Tool; Population data, 2020 Decennial Census.
Neighborhoods in the city that have canopy coverage of at least 10% include:
Some of the historic districts, such as Lincoln Park, Wilton Heights, and Hacienda Heights
Much of Phillips Ranch
Cal Poly Pomona campus
Portions of the Westmont neighborhood
Large open spaces such as Ganesha Park, Washington Park, and the cemeteries in South Pomona
Portions of the Lincoln Park neighborhood have the greatest tree canopy coverage in the city at 17.1%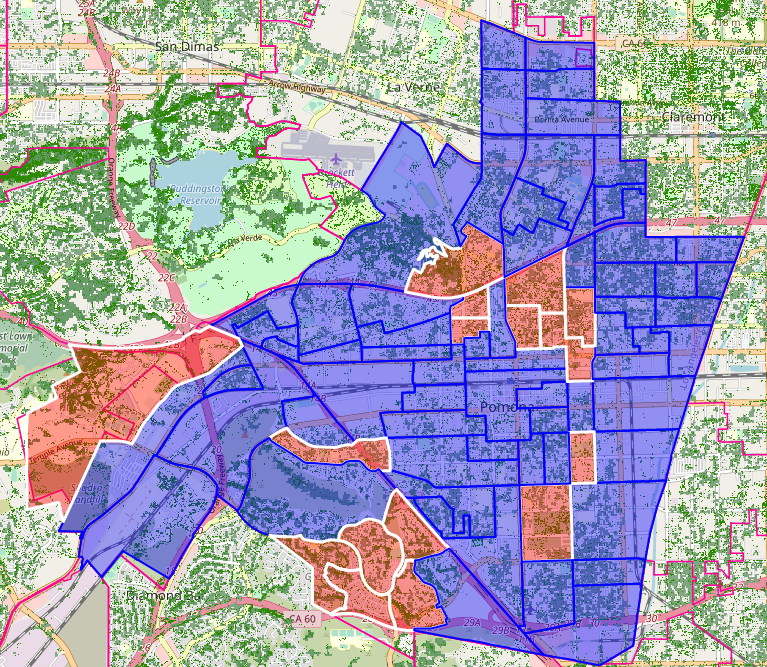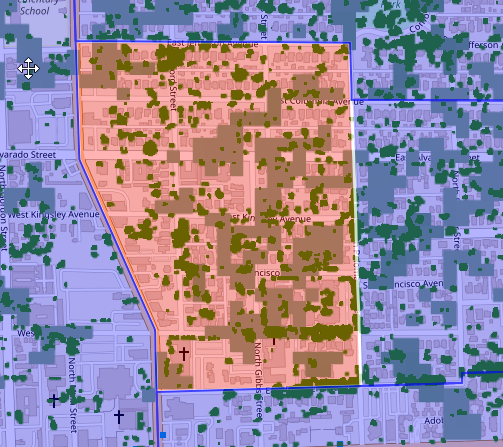 The southeastern portion of the city has among the lowest percentages of tree canopy. Areas of industry or intense commercial use that have tree canopy coverage well below 5% include:
Industrial areas east of Reservoir Street
The Pomona Ranch Plaza
The Mission/71 area
Pomona North Transit Station
Neighborhoods around Palomares Park, Pomona High School, and East Holt Avenue also have disproportionately low tree canopy coverage. The predominantly industrial area east of San Antonio Avenue, between the railroad tracks and 9th Street, has the lowest tree canopy coverage of only 1.66%.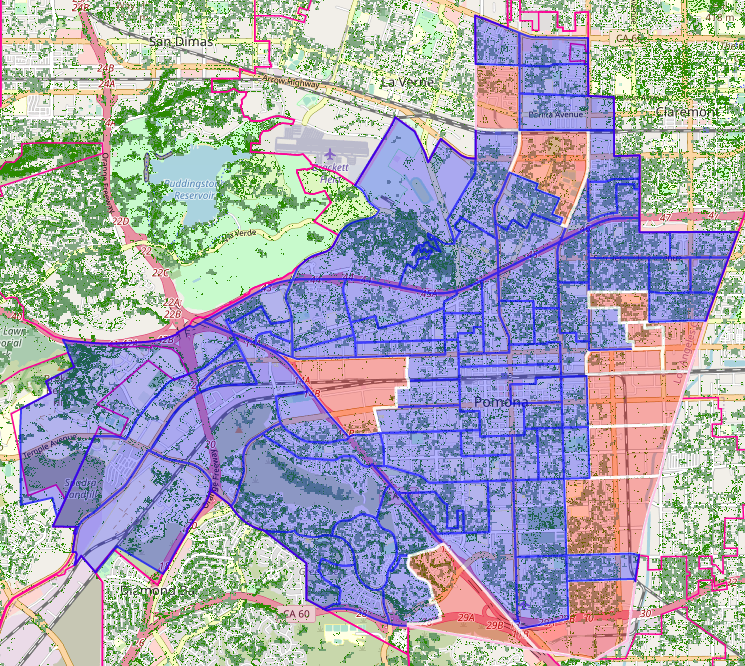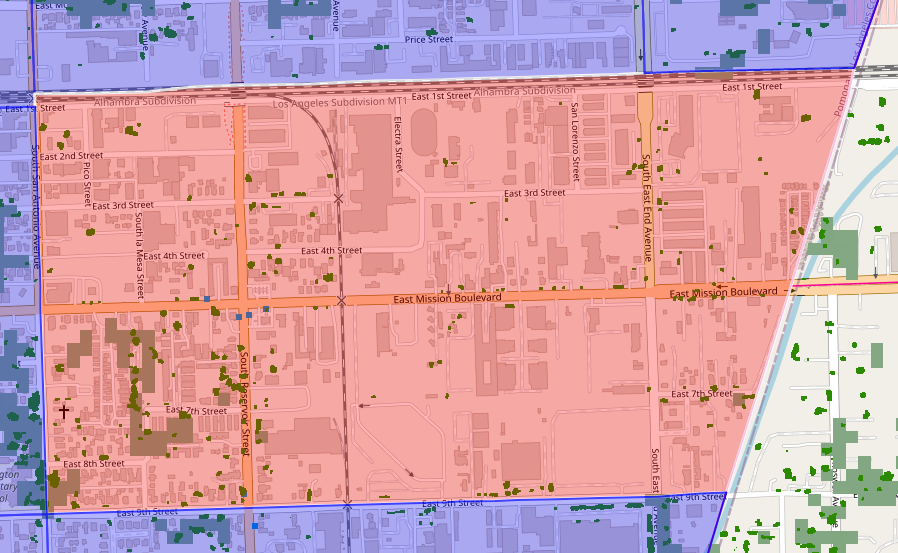 Trees Where People Live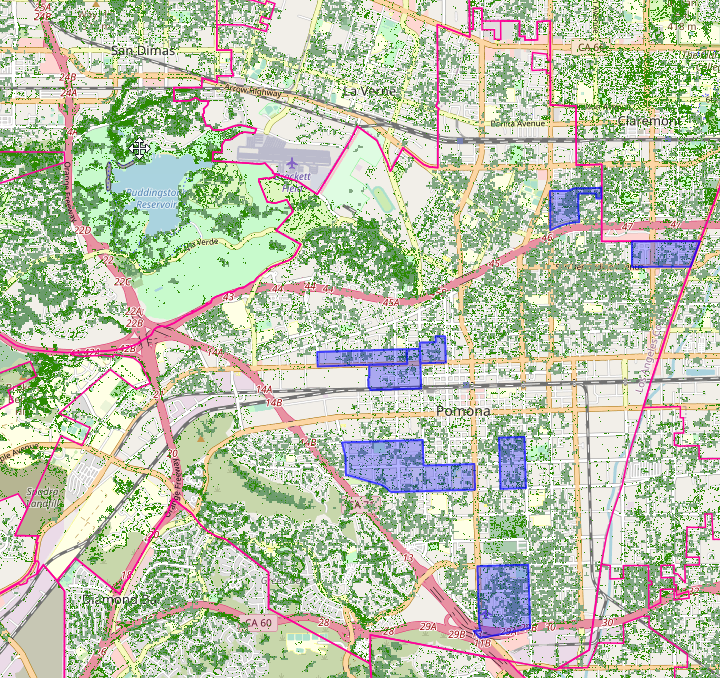 The areas pictured above represent the densest neighborhoods in the city, with over 15,000 residents per square mile. Tree canopy cover averages 7.4% across these neighborhoods.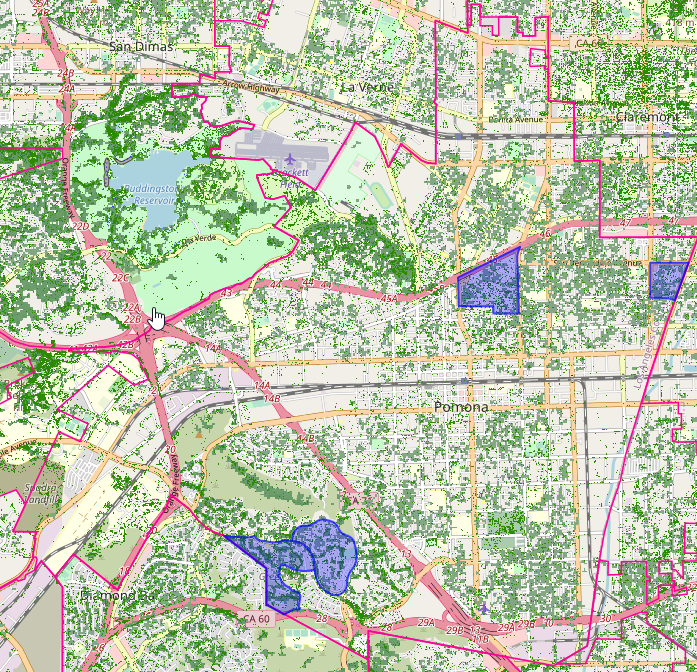 These four neighborhoods have the highest median household income in the city (>$107,000 in 2020). They have an average tree canopy coverage of 13.3%.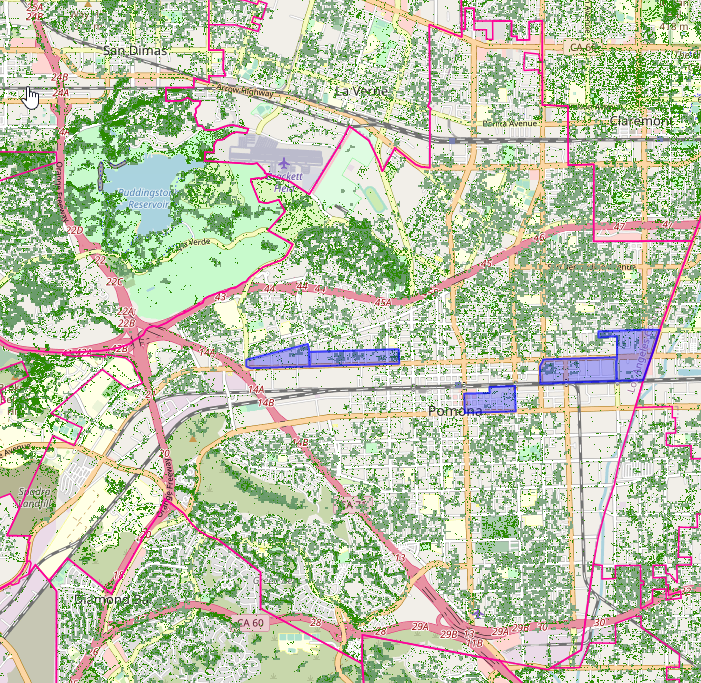 In contrast, these five neighborhoods have the lowest median household income in the city (<$40,000 in 2020) and have an average tree canopy coverage of 4.0%.